Jetstar claims 'important win' over ground crew union
Jetstar boss Gareth Evans says ground crew defying their union to vote in favour of new wage deal is an "important win" for the airline, ending a costly industrial stoush that including widespread flight cancellations due to strike action.
The Qantas-owned carrier sidestepped the Transport Workers Union and put a proposed enterprise bargaining agreement directly to its ground crew and baggage handlers after negotiations with the union hit a deadlock.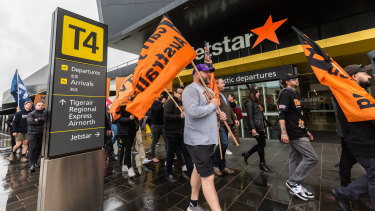 Jetstar ground crew and baggage handlers have voted in favour of the new wage deal, ending a bitter dispute with the airline. Credit:Scott McNaughton
Jetstar said over the weekend that a majority of workers voted in favour of the deal, which includes 3 per cent annual pay rises over for the next four years plus rostering and allowance improvements. It did not release the final vote count.
"This is an important win against a campaign of misinformation and inaccuracies by the TWU," Mr Evans said on Sunday.
"A campaign that was part of their broader national fight against airports and airlines, and which disrupted the travel plans of thousands of Jetstar customers over summer."
Mr Evan said the deal included pay increases almost double the rate of inflation "but still lets us deliver the low fares our customers expect".
A key sticking point in negotiations was the TWU's push for a 30-hour a week minimum roster for ground crew, many of whom are on 20-hour contracts.
TWU National Secretary Michael Kaine accused Jetstar of "blackmail tactics" by telling workers that one of the benefits in the EBA – 3 per cent backpay to March 2019 – would not be included in future agreements if they voted the deal down.
"It is not easy to stand up at your workplace along with your mates and say no to your manager," Mr Kaine said.
"Jetstar workers did this for as long as they could but for low-paid workers the prospect of being denied money from a rate increase that was due a year ago was too much."
The TWU last year threatened "industrial chaos" across the aviation and transport industries in 2020 as it makes a push for better wages and conditions across more than 200 different enterprise agreements, with Jetstar its first target.
Jetstar ground crew walked off the job in December, and took part in a 24 hour strike on February 19 which forced the carrier to cancel 48 flights or about a quarter of its domestic schedule.
Jetstar remains locked in pay negotiations with it pilot group, which also went on strike in December, resulting in 90 flight cancellations and prompting the airline to cancel about 10 per cent of its flying through January to minimise disruptions from potential further strike action.
The December strikes cost Qantas $12 million, the company said at its half-year results last month.
Source:
Read Full Article